Although Uganda is a country of great natural attractions, it is also exposed to various environmental threats as a result of climate change and several other factors.
CORE implements environmental conservation and education projects to empower community members and conserve their environment. Our environmental conservation and education projects can be separated into four sections.
1) Improving access to safe water.
Uganda as a country still faces major challenges regarding access to clean and safe water for the majority of its population. Statistics state that about 21 million people in the country still don't have access to clean water despite a large portion of the country being covered by open water and swampland. This is because a lot of the available water is contaminated with sewage and other forms of waste, hence rendering it unsafe for human consumption. The poor water access is even worse in rural areas where the majority of the areas don't have access to safe water services. We as CORE have provided water tanks that accumulate rainwater and let community members fetch water from them.
2) Nursery&Tree Planting
Logging for fuel wood and clearing for new land has led to a significant reduction in forest areas in many parts of Uganda. Deforestation has led to a weakening of the ground, which, combined with more concentrated rainfall due to climate change, has resulted in a high incidence of landslides across many parts of Uganda. To tackle these problems we have set up nurseries with community children, and through seedling cultivation, we are engaged in activities to convey the importance of environmental protection and its importance to them. Grown seedlings are distributed to community members and tree planting is done by together with them. Increasing trees and plants lead not only to stop the deforestation and landslide, but also mitigate global warming in the future.
3)Environmental & Hygiene sensitization to students
Environmental and hygiene education directly affects their future and the health of the children. We provide fun learning experiences through 'Tree For Books' activity, where we distribute stationery and books to children who take part in our activities, and through quiz competitions.
4) Energy Saving Stove (Rocket Lorena)
One of the causes of deforestation in Uganda is the use of firewood as fuel for cooking. The common cooking stoves used in rural areas have low combustion efficiency and require a lot of firewood. The 'Energy Saving Stove (Rocket Lorena)' we are developing can halve the amount of wood fuel used, reducing not only the forest area, but also the time spent collecting firewood. Through the promotion of energy-saving fireplaces, which can be easily made using only locally available materials, we hope to reduce the amount of firewood used and to instill environmental awareness in the community.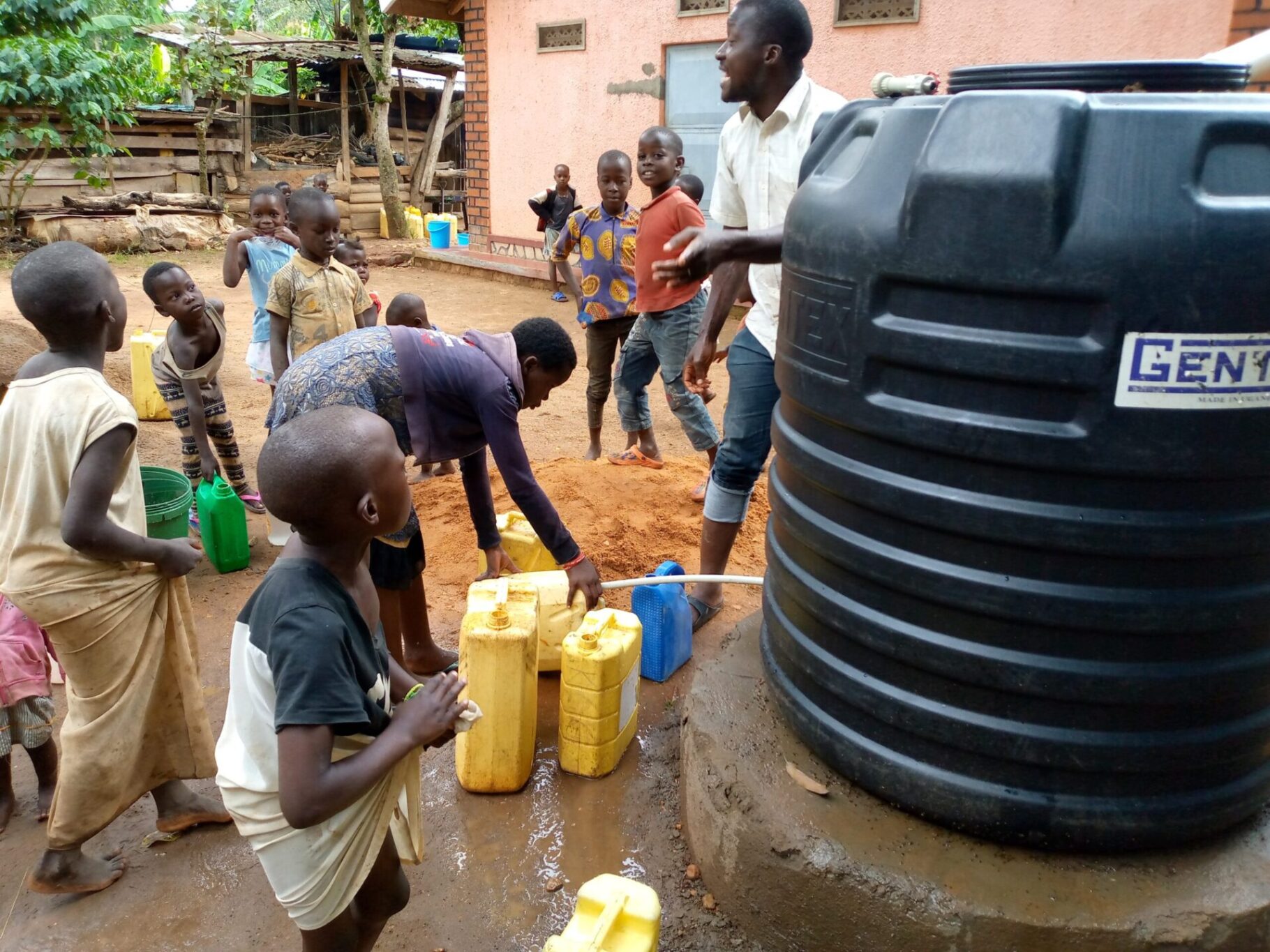 Provision of Water
The provision of tanks to the communities will improve access to safe drinking water among the communities. This will reduce the risk associated with consuming contaminated unsafe water. With access to safe clean water, the prevalence of water-borne diseases is also expected to reduce.